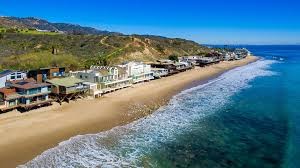 In the most expensive home sale ever for Los Angeles County, the priciest home on Malibu's famous Billionaire's Beach has found a buyer. Hotelier Peter Morton has an agreement in place to sell his oceanfront property in Malibu's Carbon Beach, better known as Billionaire's Beach, to natural gas billionaire Michael S. Smith and his wife, Iris Smith, for $110 million, the Los Angeles Times reported.
It's an astronomical sale even in the world of luxury real estate. The previous county record was $100 million, which was hit twice in 2016: for the sale of the Playboy Mansion in Holmby Hills, and for a mega-mansion built on speculation in the same neighborhood.
The Malibu sale, which is expected to close Tuesday, is the latest huge deal for the exclusive beachfront city, where two $85 million sales have closed in the last year and a half.
Long a local getaway for Hollywood's elite and, more recently, a favorite haven and investment area for tech entrepreneurs, Malibu continues to open pocket books.
"There are never going to be that many giant sales (in Malibu) because there are only so many homes that have a lot of beachfront and multiple parcels," Jack Pritchett, co-founder of Malibu-based brokerage Pritchett-Rapf Realtors, told The Times. "We can say $110 million is a joke, but you can't find multiple-lot properties like Morton's."
Squeezed between two homes owned by Oracle Corp. co-founder Larry Ellison, the half-acre property on Pacific Coast Highway comprises two parcels with two structures and more than 100 feet of beach frontage, according to The Times.
Morton, 70, acquired the two properties over the last three decades in separate transactions totaling $5.6 million, public records show, and commissioned architect Richard Meier to design the compound.
SOURCE: Emily Holland, Patch Staff