Published:   MarketWatch Nov 18, 2018 10:12 a.m. ET  By Jacob Passy
Photo: Getty Images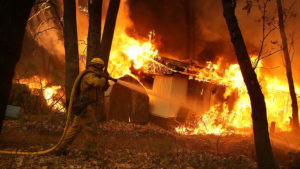 With tens of thousands of people displaced by the wildfires burning across California, many will be scrambling to find new housing. And they'll have to contend with a housing market with high costs and little inventory, making their recovery all the more difficult.
The Camp Fire burning in Northern California has destroyed 9,700 homes, including the entire town of Paradise, displacing some 52,000 people as of Thursday evening. And with the fire only partially contained, more homes could be at risk. Meanwhile, the Woolsey Fire in Southern California has displaced more than 250,000 and destroyed scores of homes, including those owned by celebrities such as actor Gerard Butler and Miley Cyrus. All told, the fires have killed 66 people, with more than 600 still missing.
According to estimates from CoreLogic, more than 23,000 homes were damaged by the wildfires, representing roughly $8.6 billion in total reconstruction cost value.
For the thousands of Californians who now find themselves homeless, matters may only get worse thanks to the state's extremely competitive, pricey real-estate market. "These market conditions that require would-be home buyers to make quick decisions are not easy for buyers," said Danielle Hale, chief economist at Realtor.com.
California's housing market is in a lull
The good news for those who are now on the hunt for permanent or temporary housing following the fires is that the real estate market in the Golden State is going through a slight lull. While home sales dropped in October, the number of active listings across the state rose for the seventh straight month. There are now 28% more homes on the market than a year ago.
Of course, in some parts of the state, it's still incredibly tough to find a place to live. Sacramento, the largest city near the Camp Fire, has nearly one-third less inventory than the state overall, according to data from the California Association of Realtors.
And the median home price for existing homes statewide is $572,000 — which is more than double the national median of $258,100. In the case of the fires in Northern California, the worst-hit communities already had some of the cheaper homes in the state, meaning that those affected may be less able to afford the pricier real estate elsewhere, Hale said.
Also see: California's emigrants aren't all moving to cheaper housing markets
There will be a delayed increase in prices
The added demand of the thousands of residents looking for new places to live could drive up prices, but the effect won't be immediate. For now, many of these people will be relying on family, friends or hotels to find temporary places to live. But as the reality of the long road to recovery sets in, many will need to find rental housing to fill the gaps, and that will eventually cause prices to increase. "Often that spike in prices is delayed," said Aaron Terrazas, senior economist at real-estate website Zillow ZG, -6.30%
Wildfires could fuel migration out of California
The longer-term question displaced Californians will need to answer is whether or not to rebuild.
Already California has seen a growing exodus: More than 1 million people left the state between 2006 and 2016, largely because of the high costs of housing. And wildfires may end up becoming another contributing factor in this trend.
"Insurance rates in those areas are going to go through the roof," said Rick Sharga, executive vice president at Carrington Mortgage Holdings, a real-estate firm based in Greenwich, Ct. Plus, state lawmakers may face pressure to update building codes in California to make housing better able to withstand fires. If homeowners are required to rebuild with fire-resistant materials, that could cause the cost to rebuild to rise even more and make it financially out of reach for those who were displaced.
Older residents were counting on their home equity
Others may be dissuaded by the risk to their financial well-being that wildfires could represent were they to stay put and rebuild. "A lot of California homeowners are very equity rich, and a big portion of their retirement plan is the money tied up in their home," said Daren Blomquist, senior vice president of communications at real-estate data firm Attom Data Solutions. "Assuming they can get most of the money out with the insurance payment, they would be inclined to go elsewhere and especially go to a less expensive market where that home equity will go a lot further."
That could well be the case for many of the residents of Paradise, the town which was nearly completed wiped out by the Camp Fire. Roughly one in four residents of Paradise is age 65 or older.
Long-term effects could be seen
Consequently, home prices in many of these areas may suffer. Some studies have shown that small fires have caused home prices to drop locally by as much as 22%, while other studies say the impact is more limited.
But given the size and scale of the destruction these fires have caused, LendingTree TREE, -4.63%  chief economist Tendayi Kapfidze said they may have an effect more similar to Hurricane Katrina, which caused a long-term downturn in Louisiana's real-estate market, versus smaller hurricane. "This event may have the likelihood of changing buyer perceptions in a far greater way," he said.